Since founding VRYeveryday in 2018, I have done a series of video interviews, podcasts and media features about my 26 years in recovery from addiction and depression. Many of us are "functioning" at a high level professionally and still suffering on a very personal level so I've chosen to include this on my business based website in the hopes that by adding them here I can perhaps provide some experience, strength and hope for those still suffering and to continue to smash the stigma of addiction and mental health issues.  – Rynda Laurel
*Founder – AtRynda & VRYeveryday
*Board of Directors – The Alliance for Addiction Solutions
*Multiple Pathways of Recovery Working Group – Facing Addiction
*Certified Recovery Nutrition Coach Level 1, Academy for Addiction and Mental Health Nutrition
Celebrating 26 Years in Recovery – July 10, 2018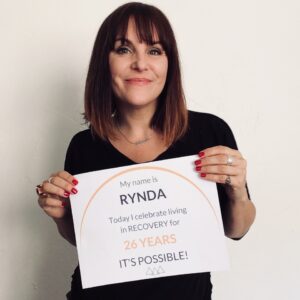 6/3/18
ODAAT CHAT WITH ARLINA ALLEN
Rynda Laurel – 25 Years Sober – The Music Business, Heroin, and Healing the Mind, Body, and Spirit.
iTunes
or
listen here: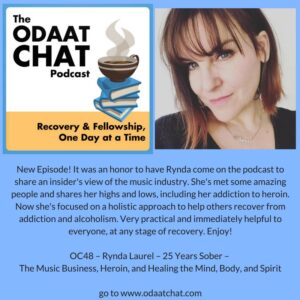 4/23/18
ADDICTION/RECOVERY E- BULLETIN EXECUTIVE CORNER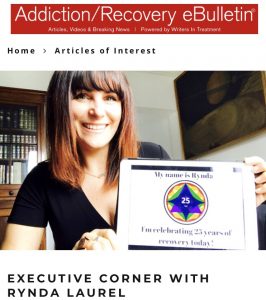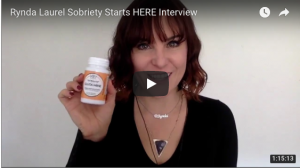 4/9/18


THE Z-MAN PODCAST WITH TODD ZALKINS



Z-Man sits down with Rynda Laurel, music industry veteran turned entrepreneur with 25+ years sobriety. They discuss some of her experiences in the industry including stories about The Cadillac Tramps, Pearl Jam, and David Bowie.  They also discuss managing depression and how Rynda's new product line VRYeveryday is getting momentum and making a difference.
iTunes
or
listen here:
Facebook live:

4/2/18


ROCK TO RECOVERY RADIO WITH WESLEY GEER
Music business veteran turned entrepreneur talks about surviving the rock and roll lifestyle, addiction, depression, 25+ years of recovery
and why she started VRYeveryday.
or
listen here: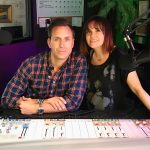 For the first time, Rynda Laurel shares her 25 year recovery story and how it led her to start VRYeveryday.
Celebrating 25 Years in Recovery Paris – July 10, 2017