I had a dream…and through footwork & synchronicity it has turned into a reality.
Russell Brand to join Brian Solis at SXSW 2015 Convergence!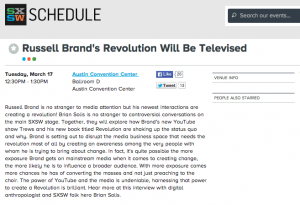 A few months back Brian Solis tweeted about one of his favorite artists who happens to be one of mine. We ended up in a discussion about music and he came up with the idea of having Billy Corgan, who was my client at the time, on his End Of The Music Business as Usual Keynote at SXSW 2012.
After 1000's of e-mails, texts and schedule changes, thanks to Peter Katsis and Deb Klein at Prospect Park, and of course SXSW and Billy Corgan, we managed to organize it.
Here are the highlights:
About the Interview
Video of The Interview
Post Interview with Brian
Google Play Interview
What's Trending with Shira Lazar
Billy on InfoWars